If you are like me, a fellow Yangonite (means Yangon Thu, but also implies Yangon Thar?), you are no longer new to the ultimate ride hailing application in South East Asia. Grab came in full force to disrupt Myanmar's latt-tar taxi model, probably 3 years ago. In the same time, the Singaporean privately-held company heavily subsidized the marketplace through their generous promocodes and flashy marketing, as an all-in attempt to quickly penetrate the market.
The dust has not yet settled but our guess is Grab today has hugely disrupted Myanmar's traditional latt-tar model, if not completely. Sure, we cannot speak in terms of the market shares, but we're pretty sure they do claim significant slice of the pie and probably more so in the future.
With more and more Yangonites booking cabs at the touch of their fingertips, we share 9 types of Grab drivers you see everyday in Myanmar. Please note the post is written light-heartedly, and not to be taken seriously in any means. With that, let's jump right in! 😉
1. "I will be there in few minutes." IM guy
This chilled cabbie won't bother calling you, no matter where your location is and how unsure he is. Legends say you are more likely to receive a call from your ex before he dials your number.
2. The cash advocate
Are you riding with GrabPay? Credit Card? Mobile Payment? It doesn't matter because cash is king. Consider yourself 'lucky' if he doesn't come up with some once-in-a-lifetime excuses to bail out. He is especially your nightmare if your company partnered with Grab for corporate billing.
3. The philanthropist
Are you feeling lucky? Because you are. These rare gems might not be able to end the world's hunger but they will certainly end yours. Just remember to recognize his contributions, 5-stars or leave the change may be?
4. The star leecher
Since the 8th grade, we're told if we want something, we have to just ask for it. Well, this still holds true. The question is if we don't ask, will we ever get the 5 stars we want?
5. The customer service expert
More often than not, we do when we deserve, especially if you are a nice cabbie and treat every person with the same set of principle. This nice cabbie also goes an extra mile for you, literally and figuratively, to make you happy. Deep down, he knows his stars are the byproduct of the customers he delighted.
6. The quiet guy
If you're like me, a quiet and reserved guy, you love to spend the whole commute day-dreaming or zoning in your favorite playlist. And thanks to this introvert cabbie, you don't have to unplug your earplugs or better yet, you avoid a fake small talk.
7. The traffic reporter
No doubt, everyone takes a stand for the cause they believe in. And this guy stands up to untangle Yangon's chronic traffic congestion, at least for the taxi community. You will know and appreciate him straight away when you see a group chatter observing and reporting traffic, with their insider-app. But please chatters aside… keep an eye on the road, will ya?
8. The beetle chewer
With betels wildly remain stapes in Myanmar streets, the betel-chewers too are not likely to go away anytime soon. But hey, on the bright side, the smokeless betels aren't as harmful to the society as the lighted cigars. Having said all that, I wish Grab still gets rid of these smelling rides.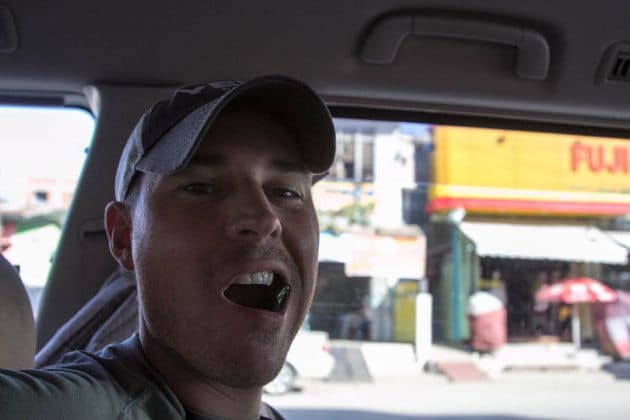 9. The jerk
If your initial conversation doesn't go well, chances are it will never be. So, don't leave it to any chance. Do yourself a favor and cancel the trip. It's enough the fares are overpriced; you don't have to sit through a lousy commute with someone you don't like, a jerk.